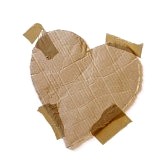 I've been neglecting my own personal blog lately, mostly because I've been SO busy blogging on behalf of Thunder. I find it hard to even turn on my computer once I get home from a long day of Internet Marketing, as I have been staring at a tiny screen for 8+ hours. I'm really enjoying this job though, as it is cool and different and I learn something new everyday. Working out of DT is super fun as well. Just being around those guys inspires me daily, and I feel like they're always on the verge of something creative and innovative. A rad company to work for, and oh yeah, they are looking for an account supervisor if you need a job. Still working a lot with local search, blogging and other social media stuff, and some SEO techniques (building keyword maps, market research, etc.).
Of course, I'm still stressed about the near future (i.e. 6 months from now, where will I be? I don't know!) Looking for a steady gig, and possibly  taking on an additional job in the near future. Living alone has proven to be expensive, yet awesome. I can't imagine not living in San Diego, and South Park has been a great place to live. I find that living alone inspires me to get outside my box and do interesting things alone (like watching a screening of Julian Lennon's Whaledreamers at the San Diego Center for Spiritual Living or an upcoming event I'm considering attending this weekend, the South Park peace concert to benefit Indian orphans). I have also been hanging out with a variety of old friends. Maybe living with my best friend for 4 years started to prohibit my friendships with others, or maybe I was just lazy. I neglected my oldest friends, but none-the-less, I am happy to have them back in my life.
I've been home a couple weekends as well, and I've started to see how important my best friends and family are to me. Spending time with people that really know me warms my heart, and I never feel uncomfortable. Not that I do in SD, it just feels great to be welcomed and appreciated by people that have known me for decades. I love my parents house and my mom's tacky decorations and my dad's stubbornness and my sister's desire to be around me 24/7. Most of all, I love making them laugh. I love seeing my old pets and cruising around my old stomping grounds. My Ponderosa scenic route will never get old. I love being able to drive through a city in less than 10 minutes.
Being in the 805 defiintely makes me miss San Diego though. There is so much to do here and there is always something going on. Events, beer festivals, dinner parties, charity film viewings, sponsored parties with free goods and grub, community, local cuisines, concerts, dog parks, reggae nights, after-parties, and bikes. Tons of bikes. Finding a niche has never been so easy. I love you San Diego.
So although I had no reason to write, that's really the best reason. Writing has always been therapeutic for me, and writing things down always makes things clearer. Thoughts that have been twirling around in my brain are now in a definite location, and I can go on dreaming about other stuff.