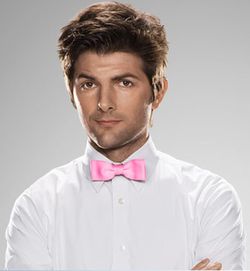 I have a new celebrity crush, and his name is Adam Scott! I started watching Party Down on Netflix because my sister recommended it, and after seeing the first episode, I could not stop. It has a lot of the same cast and crew from Veronica Mars, another Netflix favorite of mine, and it is one of those shows like Arrested Development that was too good for network television. It was canceled after only two seasons.
Yes, the characters are funny, but I mostly connected to it because of my familiarity with the restaurant industry. Each episode follows the crew of Party Down Catering to a new event. I used to have a catering job, and let me tell you, this show is hauntingly accurate. From drunk cougars and fancy yacht parties you'd otherwise never attend to strict uniform rules and table bussing into the night, it's all there. PDC  is also the underdog in the industry, so it's hilarious to watch them compete with other catering companies.
But let's talk Adam Scott. Hellllllllllo! He plays sarcastic, has-been actor Henry ("Are we having fun yet?") who returns to the company after his Hollywood career fails. After watching Party Down from start to finish, I IMDb stalked him, as I often do, and realized he was in a bunch of other stuff like Step Brothers, Parks & Rec (which I confessed my love for last week), Party of Five (so 1995), The Aviator, and a movie I also Netflixed last weekend: The Vicious Kind. That film is pretty dark, but I really enjoyed it (especially his beard). Adam Scott, you are super hot and funny and handsome and witty and I love you.

While watching The Vicious Kind, I also discovered this song by Radical Face, which has been on repeat ever since.
Images: Starz, Images Gallery, Filmdogs, ScreenCrave