Last month, a group of ladies got together to celebrate the aforementioned nuptials of my sister and her man! It was super fun, and I am suddenly wishing I could do it all over again.  (Side note: If you are looking for an amazing spa in the South Bay LA area, please check out Terranea. Wow. Just WOW.)
Since I'm the maid of honor, I planned the whole shebang, and knew I wanted to make a fun gift to give the gals. Who doesn't love party favors, am I right? Well, I found this cute bachelorette survival kit on Pinterest (home of all things awesome), and I decided it would be the perfect way to set the mood.
Taking cues from the wedding website I designed, I created a pretty label, and finished it with a "proceed with caution" stamp on the back. Then, I made cool "If lost, please return _____ to Hermosa Beach House" (our hotel) cards and filled the goody bag with treats to get us through the weekend. Contents included Band-Aids, Purell, Happy Hippos, Burts Bees lip balm, gum, Pepcid AC to help with the redness, and Advil (lifesaver!). A little peckerfetti, and we were in business!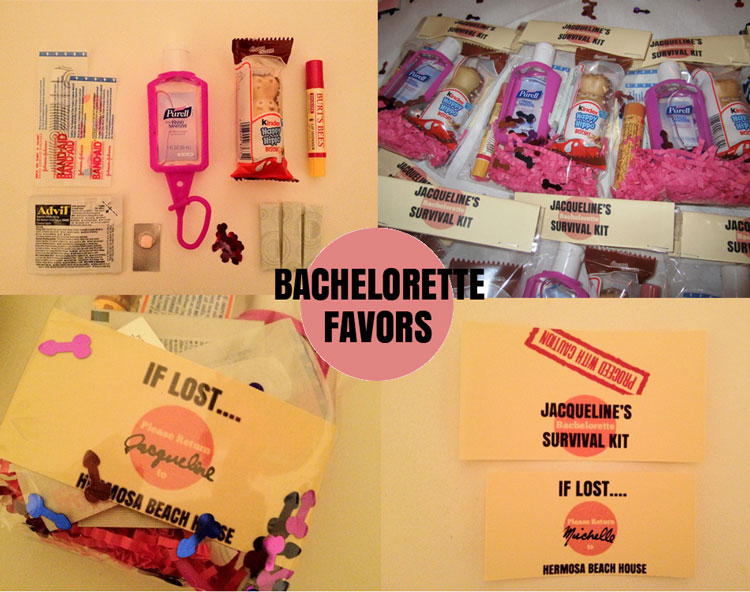 I love the way the bachelorette favors turned out, and they were a big hit with the ladies too! Definitely a fun way to get the party started.

P.S. Meet Peter Pecker. He's kinda incredible.