Lately, I've been bitten by the home improvement bug, and I've been interested in refurbishing old furniture. Sometimes, I find something at Pat's, my favorite North Park thrift store, but other times, I give an OG piece I already own a fresh look.
I found this shelf at my parent's house while I was home for the holidays. This shelf used to hang in my bedroom during my youth. I remember I used to place mismatched picture frames and trinkets within its awkward-sized squares. My sister even mentioned it used to hang elsewhere in our house when I was too young to remember. I gave it a fresh coat of matte red paint and hung it in my apartment this week. I'm using an old mason jar I found at AMVETS to collect spare buttons, and I thought it fit perfectly in the center square. I'm going to take my time picking out something perfect for each compartment. I think it looks lovely in my room, and I enjoy looking at it every day. Breathing new life into something outdated is really rewarding.
Here's what the shelf looked like before. Notice the pretty pink paint and the thin (and tacky!) wire screen behind the heart cabinet. Please try to ignore my messy desk and high school soccer photo!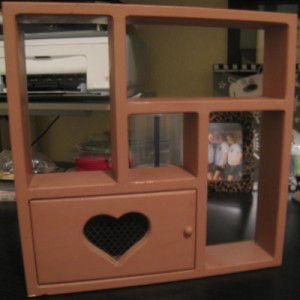 I'm also a fan of rescuing abandoned furniture, and I've been finding great things near my apartment's dumpster of all places! I got a record player for Christmas (thanks Mom and Dad!), and I've been looking for the perfect table to set it on. While driving into my apartment complex's dark alley, I found this perfect end table! Since I still had some red paint leftover from the shelf project, I used it to spruce up this beaut and was definitely satisfied with the results. The table fits perfectly in my living room!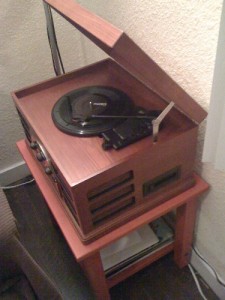 I'm still on the lookout for a bookshelf for my apartment. I'm reading a lot more these days, and I really want to start collecting more books. I plan on finding an old bookshelf that needs a new home and a makeover! Bekka mentioned that I might add a shelf to the top of my old radiator, or even consider these fun shelves above Carrie Bradshaw's (from SATC) bed: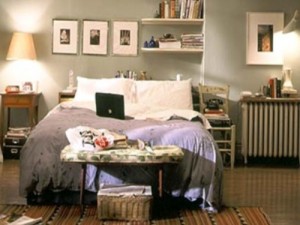 Here are some cool bookshelves I've found on the net: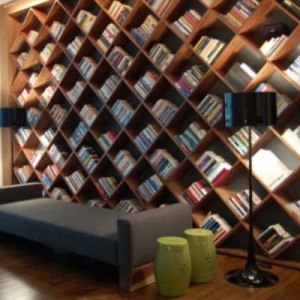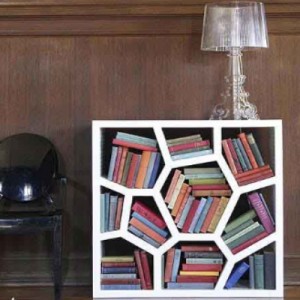 Furniture is FUN!