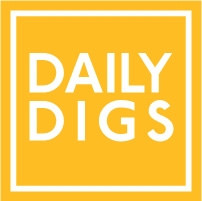 Sometimes, work gets a little dull, and you've got to spice things up! Bekka and I decided it would be really fun to take photos of the outfits we wear to work every day, and then blog a weekly post with our digs until we get 30 shots (that's 6 work weeks).
The series will serve a few purposes. For one, it'll encourage us to get up a bit earlier and spend time picking out something cool to wear. We also think it will be neat to look back at a snapshot of our wardrobe years from now (we're grandmas like that). Additionally, we love reading blogs with "daily outfit" segments (like sterling style, The Dainty Squid, and A Beautiful Mess), and we are determined to improve our shooting and posing skills (note: we are not so good at the posing part yet). And most importantly, it gives us something to look forward to after we eat lunch each day! So far, it's been a rad experience, and although my clothes are nothing to write home about, giggling after your stomach is full sure brightens my day.
Head on over to my flickr for the full-sized versions of these pics, and make sure to check out Bekka's shots, cleverly dubbed style file, on mc.