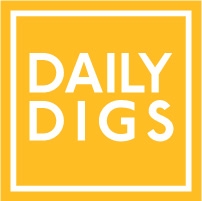 Well, we're back for our second week of Daily Digs! After Bekka totally embarrassed me with her amazing layout last week, I tried to get a bit more…awesome? with mine this time. The jury is still out, but I'm getting better. Additionally, I don't have photoshop, so I'm using Aviary, which is mediocre on its best day. I also told myself I would get more posts up in between the Daily Digs posts so it wasn't just 6 DD logos in a row, but I have decided to build a desk (DIY post comin' when it's finished), and that is taking up 99.8694% of my free time these days.
So without further ado (have I mentioned I heart idioms?), here are my outfits from the week!
Make sure to check out the bigger versions on my flickr, and you best be leaving some love for Bekka on her style file post too. Oh, and don't forget me, because I never get comments and just one would make me giddy with glee. Don't make me beg. Oh wait, I already did.