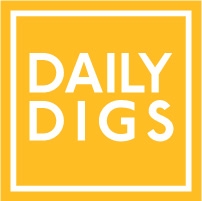 Version 3.0 of Daily Digs, comin' atcha! Is it just me, or has this week dragged on F.O.R.E.V.E.R.?? Seriously, I woke up at least 3 times wishing it was Friday, but it wasn't. Well folks, IT'S HERE! Hope the caps emphasize the excitement in my blood.
It's been so beautiful in San Diego this year. I pity the people on the east coast with storms! Mother Nature must be redeeming herself for the horrible summer we had a few months ago. Notice the sunshine blinding me in a couple of these photos, I absolutely love it. Think it's time to invest in a new pair of shades, especially with Coachella on the way in 63 days (but who's counting)!!
Pretty pumped for this weekend. 80 degree forecast, Pliny the Younger on tap, Tree Ring show, and finally finishing my DIY desk project. This, ladies and gentlemen, is what dreams are made of!!
Check out Bekka's ever-growing shoe collection over on MC, and scope the big versions of these photos on my fliccckkkaaa. xo