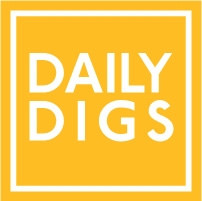 If you haven't been following my Daily Digs series,  I pity da fool. This week was another great one, albeit slightly less sunny (boo hoo). I noticed there's lots of blue in these photos, what's up with that?
I finally finished my DIY Desk Project, which was a very proud moment. I'm looking forward to many long hours at my new creative corner. So nice to finally sit down while I type!
Next week, Bekka, Gary and I are heading up to Portland for SEMpdx. Looking forward to a special edition of Daily Digs, and according to the forecast, I'm going to be slightly (read: MAJORLY) more bundled than usual.  Not sure what to do in weather that's below 40 degrees! Also pumped to check out a few more breweries up yonder (I visited back in July of  '09), as well as vintage shopping, SEO hero stalking, and dinner with some of Bekka's blogosphere friends. Pac North West, let's do this.
Make sure to swing by minted condition for Bekka's super stylish swag, and visit my flickr for big versions of the photos below. xo