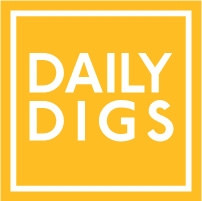 Brrrrrrrrrrr. This week, Daily Digs is comin' atcha from Portland Oregon! On Tuesday, Bekka, Gary and I headed up to the Pac Northwest for SEMpdx Searchfest, which was really rad. Besides learning lots about SEO, social, and local, we also rubbed elbows with some search marketing heroes of ours. Spirit of '77, we'll never forget you.
Bekka and I decided to extend our trip for two extra days, and we stayed at the always lovely Jupiter Hotel. We also got to eat some delicious doughnuts, shop at some fun vintage stores, drink some extraordinary beer, and dine with some awesome bloggers. Basically, I didn't want to leave and I'm about to run out of the airport and stay here forever. Portlandia is indeed amazing, and I cannot wait until I return again.
Well, as you might imagine, it was freakin' cold ("You mean they actually have seasons here?"). It was about 30 degrees the entire time, and it even snowed on Thursday. I was a little out of my element, but happy to bundle up. However, my bag is exploding with jackets and souvies, and I cannot wait to get back to semi-normal San Diego temps.
As always, stop by minted condition for Bekka's cozy clothing, and visit my flickr for larger images.