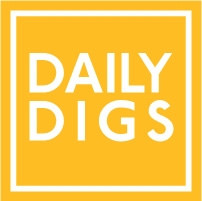 It is with great bummery that I introduce the last edition of Daily Digs! Bekka and I have been busting our fashionable bums to make magic from the contents in our closet for 30 office days. The series has been really fun, and I've surprisingly learned a lot. For instance, my layouts have improved since week one, I've got a thing for tapered leg pants, Bekka has the cutest accessories and shoes, and holy cow, it's cold in PDX.
I'd say the best thing about this journey has been its ability to reignite the bloggin' fire in my blood! I would really like to be posting on a more regular basis, and this has helped me ease into that process slowly, but surely. Bekka is truly a hustlin' inspiration, and if my blog was .1111113843928492 as awesome as hers, I'd be in good shape.
So, now that it's over, I can go back to not doing my hair and wearing ugly clothing! OK, maybe I'll still wear a cute top here and there, but definitely won't be freaking out if I've already worn the same pair of pants that week. As always, pick out your fave ensemble on Bekka's blog, and visit my flickr for bigger images. I'll miss you Daily Digs!