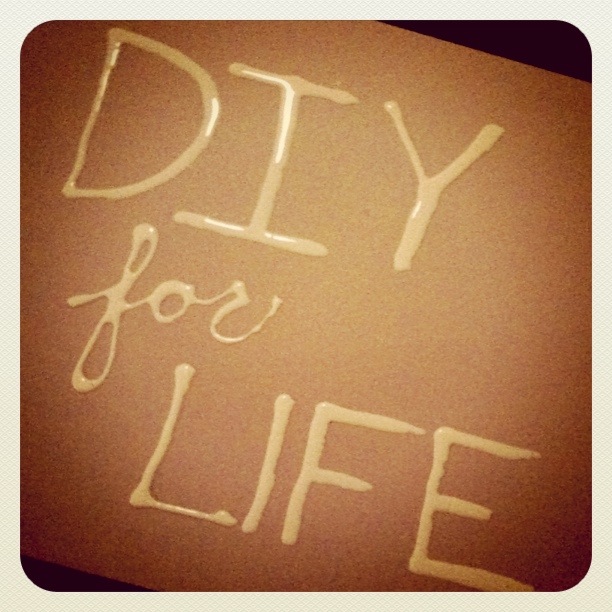 Inspiration is a wonderful thing. I got my paws on some about a month ago when I saw this amazing post on Manhattan Nest. Having just sold my old college desk on Craigslist for $150, I was in the market for something a bit more grown up and less cluttered. I went to a few of my favorite thrift stores looking for a desk or table that was just right, but prices were higher than originally anticipated. I also wanted to keep my filing cabinet, and wasn't sure how I'd find something that both fit well and somewhat matched.
Then I saw Daniel's desk, and the creative hamsters started spinning on squeaky wheels. That was it, I was going to build my own, and it was going to be perfect.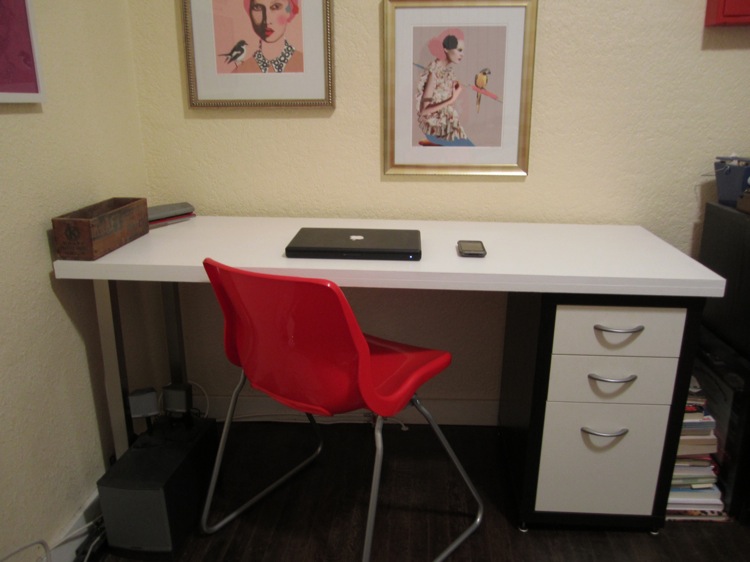 Since I have a 9 to 5, I could only work on the project at night and on the weekends, so this "little DIY" turned into a lengthy DIY that lasted for three weeks. It was an exciting journey though, and I rushed home every day to my pile of tools and excessive saw dust, excited to see how the latest coat had dried. A one bedroom apartment is really no place for a project like this, but what can you do?
In case you don't feel like reading any more, here's the final product, which I am quite fond of. Upon first glance, I squealed with glee. This labor of love was finally finished.
I pretty much followed Daniel's directions step-by-step, since I've never done anything remotely similar to this type of thing before. I also couldn't have done much without the fine folks at Lowe's, Home Depot, IKEA, and my father, who graciously supplied me with sawhorses, a caulking gun, C-clamps, bits to accompany my new drill, and drop cloths (thanks Rod, I owe you big time).
After purchasing one large piece of MDF (3/4″ thick), I asked the dudes at Home Depot to cut it into two 5′x22″ pieces. Then I loaded them up into my Jetta (fitting them inside was like a horrible game of Tetris) and wheeled the two pieces into my place on a skateboard. After setting up shop, I glued them together, but not before making this fancy wood glue tag. Gangsta', I know.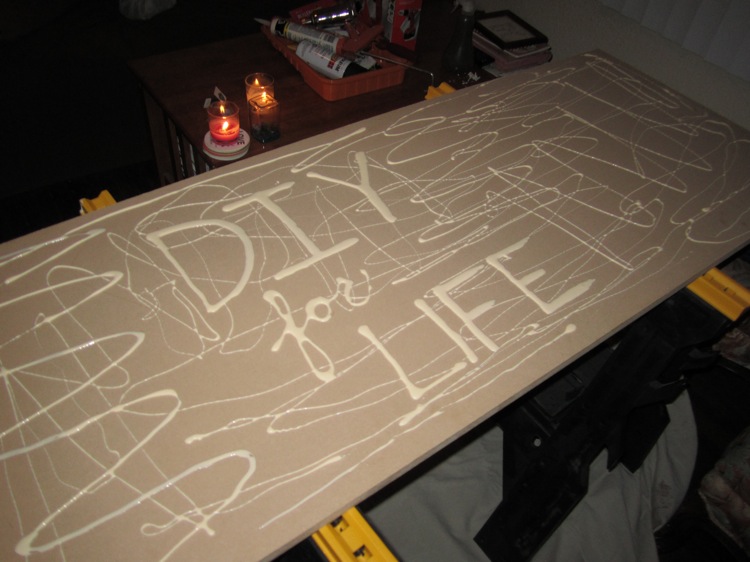 Then I clamped them together with these super cool c-clamps my dad let me borrow. (Special thanks to my neighbor Mark and his friend who helped me loosen up a clamp that would not budge.) Per Daniel's recommendation, I used caulk instead of spackle to hide the small gap between the two boards. And yes, I watch Ghost World while I DIY, what's it to you?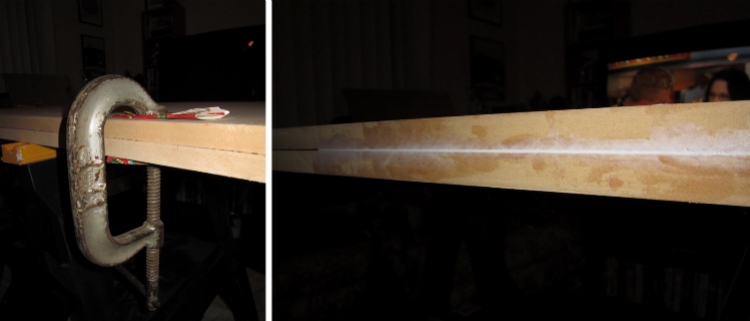 Next, I added three coats of primer, and then followed up with some Martha Stewart semi-gloss white paint. The last layer was a water-based Polyurethane, which easily killed 1,000 of my brain cells. I waited for each coat to dry overnight, which meant a lot of impatient pacing and a messy apartment. Another issue I encountered was floating dust. Not only was it dirty, but every time I added another coat of primer, paint or poly, tiny particles would get stuck in the layers. SO ANNOYING. I tried to remove each one, but that dust is sneaky. I gave up, and decided to embrace the fuzzies. I like fuzzies, I think. You can't tell the difference between the coats in the photos, so just look at this one and imagine it's primer, paint, or poly. Also, take pity on the tiny space I had to accomplish this feat. And please don't judge my living room mess, swear it never looks that dirty.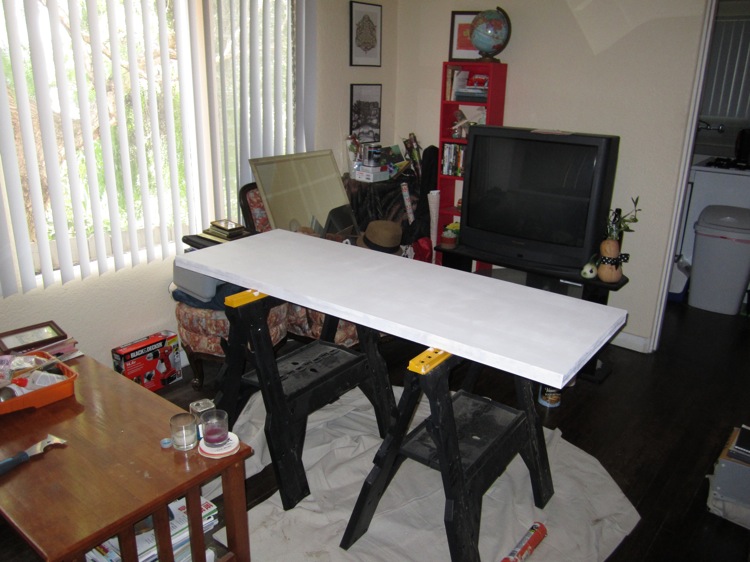 While I waited (…and waited, and waited, and waited…) for the paint to dry, I decided to tackle the filing cabinet, which was a lot less work than Daniel's since I didn't have to repurpose an old nightstand. I could only find 27 1/2″ legs at IKEA, so the plastic casters would have to come off the cabinet (fine by me), and be replaced with something one inch tall. My dad suggested small wood blocks, but I found these furniture levelers at Home Depot, and thought they would look better. Additionally, it gave me a chance to break in my new drill, which excited me. Bam!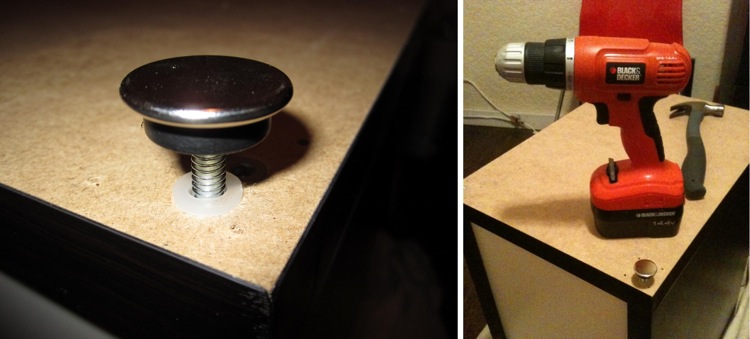 Since California doesn't have Eames shell chairs floating around in abundance, I opted for a red shell-esque chair from IKEA. Not bad for $20, and it brings out the other red accents in my room. I picked the best side, and drilled the legs into the bottom. Then, I used five wood screws to attach the cabinet to the desk top. I also fell in love with my power drill during the process. How did I go all these years without one? Finally, I carefully flipped it over, and as mentioned previously, squealed. A LOT.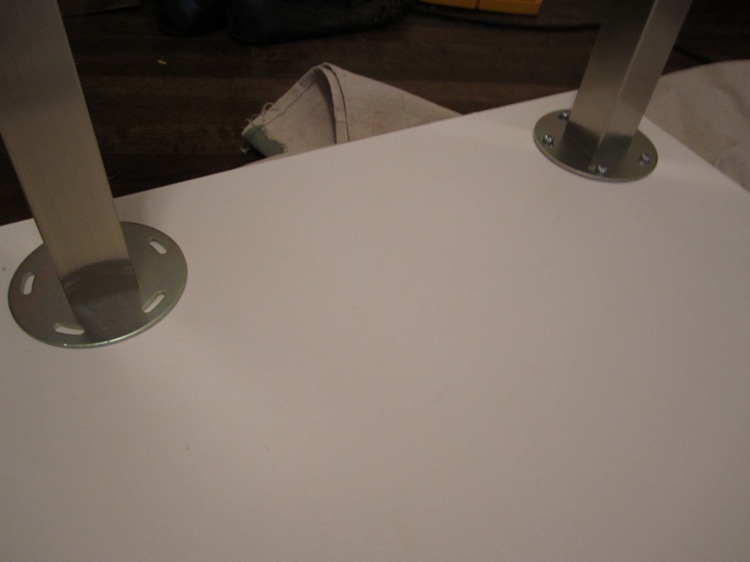 Here's the cost of the materials, which I'm anxious to calculate. It was my goal to break even, but let's see how I did.
Two IKEA Vika Moliden desk legs: $32
One 4′x8′ sheet of MDF: $31
One quart of primer and semi-gloss paint: $23
IKEA Snille chair: $22
Foam roller and two extra sponges: $10
Furniture levelers: $4
Wood glue: $3
Sand block: $3
Ten wood screws: $2
Two plastic paint trays: $1
Total: $131!! Wow, can't believe I did it! Proud moment. If you want to check out more photos, head on over to my Flickr!
Special thanks to Bekka for giving me her leftover polyurethane, and to Joy for the lovely frames that liven up my new workspace. And to all the friends that encouraged me/listened to my complaints along the way, appreciate you. Additional big hugs to my pops for providing me with so many materials from his mini Home Depot (aka garage), and MAJOR HIGH FIVES to Daniel Kanter…you sir, are a badass.