Last month, I got an email from the San Diego Fair about GeekSqueak. They had stumbled across my blog in an effort to find people writing about the local music and food scene. Since they were so impressed (who isn't!), they offered me a sweet package to come check out the fair. The bundle included free parking, 2 fair tickets, and 2 tickets to a Grandstand concert of our choice. Kenny Loggins was obviously my first selection, but I had a trip planned for Kansas that weekend, so I opted for Sammy Hagar instead. Who could resist a fellow that likes to speed?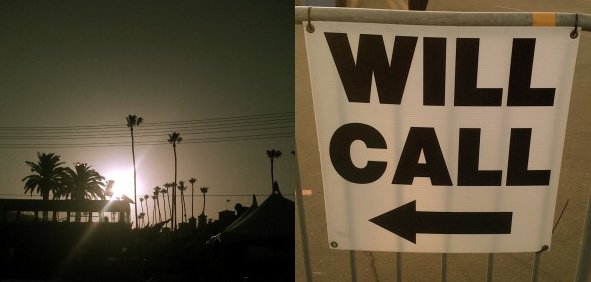 We arrived around dusk and our name was on the list for VIP preferred parking. That was nice, since I've previously only had jam-packed experiences in the Del Mar Fairgrounds parking lot. We popped into the will call, and picked up our package from Lauren Greer, the lovely San Diego Fair intern that reached out to me initially.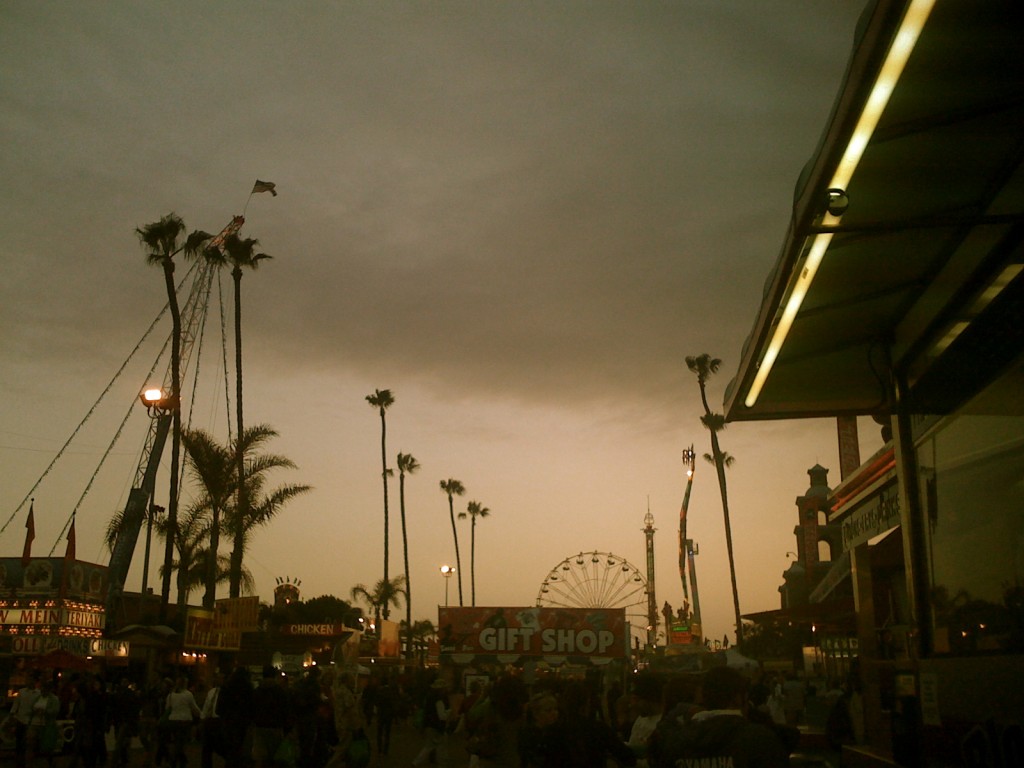 The fair was already super busy, and hundreds of people flocked to endless fried food selections. I couldn't resist the funnel cake, and Bekka and I watched 3 people take a bungee jump plunge while we indulged in our sweet treat. Although the cuisine options were endless, my only suggestions are less-expensive prices and more healthy choices. Chocolate covered bacon, fried pop tarts, and greasy pizza were all in abundance, but finding a salad or simple turkey sandwich was next to impossible. I understand the demand for such food is high and some can't imagine the fair without it, but it would be nice to have the option to eat well, or at least decently.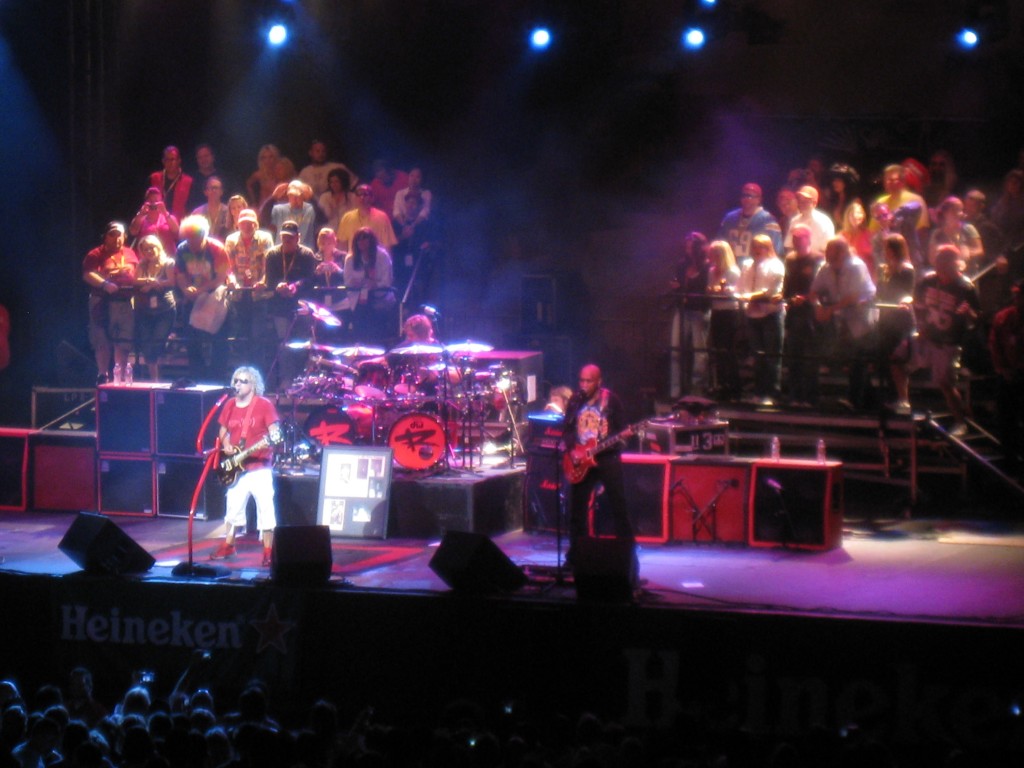 Next, we headed over to the Grandstand to check out Sammy, who was joined by a band and several die-hard fans on the stage. We enjoyed our seats, surrounded by Bret Michaels-esque fans and a new generation of "Red-Rocker" lovers.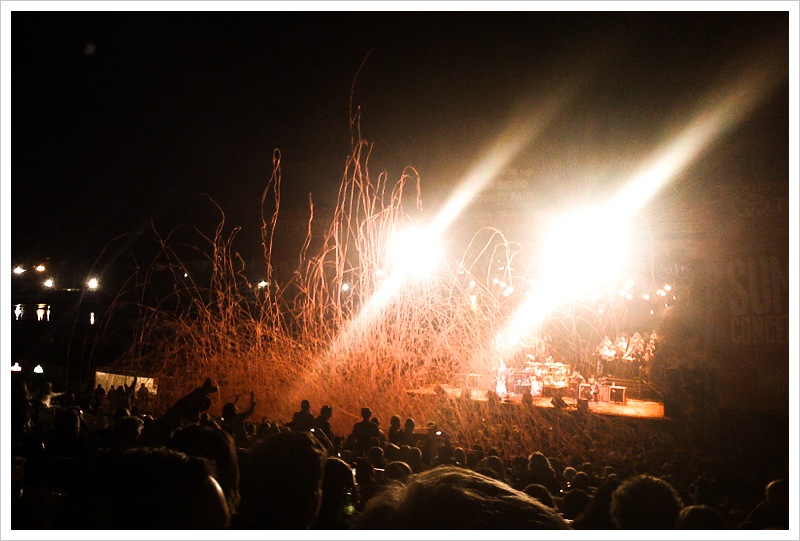 Towards the middle of the performance, Sammy shot off an amazing confetti gun, and I must find one of these for my next house party.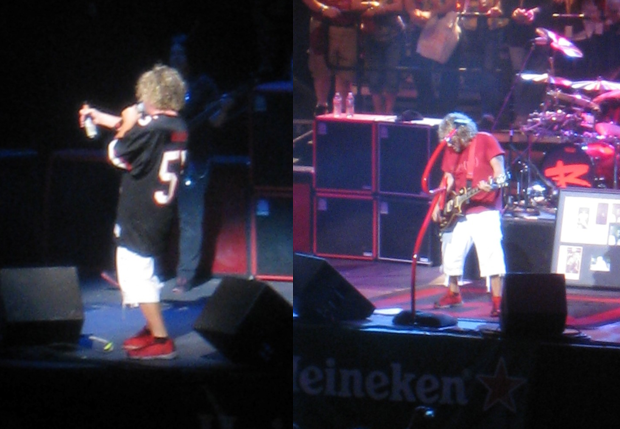 The San Diego Fair graciously supplied Mr. Hagar with Karl Strauss Amber Lager, and although I only saw him take 1 sip, he seemed to enjoy the local brew, and even gave KS a shout out during the show. I also thoroughly enjoyed his radical red microphone stand.
After the show was over, Bekka and I cruised around the fair checking out the booths and enjoying the nice weather. We came across these beautiful umbrellas, and some custom wood signs that would look great in any humble abode. Instantly falling in love with a tiny wood owl figurine, we were giddy with glee when the man behind the counter offered to engrave our "MoneKKa" moniker, free of charge.
It was definitely great to finally check out the fair this year. After living in San Diego for 6 years, it's weird that I haven't made it out before. I really appreciated the sweet hookup from Lauren and the rest of the marketing department, and it was an honor to be approached by the organization. You can bet I'll be driving more than 55 to the fair again next year, and hoping they will have some great acts lined up. I would love to see Greg Laswell or Joel P West there in 2011, how about you?