Today I was reading some of my favorite blogs, and came across this super cool promotional product from ePromos for the Chiquita brand. They were hired by Chiquita to come up with a unique corporate gift that rewarded their employees for downloading their Facebook application.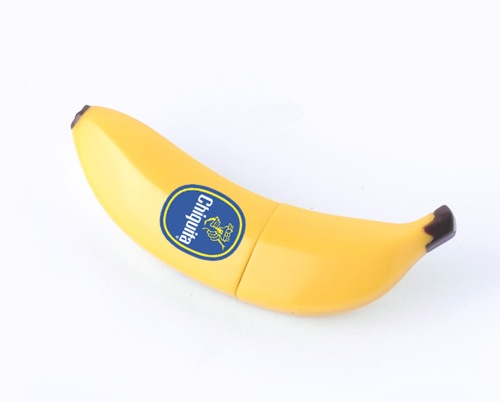 Here's the summary:
…Account manager Lonni Ornstein… recommended several new items that would match Chiquita's criteria: they were seeking a fresh, funky, new product that would appeal to younger generations. And Lonni was not at all surprised by the team's choice: a silicone, banana-shaped USB. Making the giveaway even more clever, the "banana" would be imprinted with a blue Miss Chiquita "sticker" on one side, and with the campaign Web address on the other."
The Promo:
An AMAZZZZING USB Flash Drive! I can only imagine what a great conversation starter this would be and I know anyone would be lucky to have such a rad USB stick.
The Results:
Both the incentive and the campaign were complete successes. Fifty employees downloaded the application within the first few days, and the overall Facebook campaign met its numbers within the first four weeks. But that's not all the Miss Chiquita banana-shaped USB campaign wrote: when sales representatives saw the uniquely Chiquita-branded product, they immediately clamored for their own to use as giveaways at the upcoming Produce Marketing Association Tradeshow, where, we also learned, the USBs drove suppliers "bananas" as well. The USBs ultimately made their way to Chiquita's Cincinnati headquarters, where the word in the office was, "We love these! Where can we get more?" Due to the overwhelming response, team Chiquita plans to use the unique USB's in many future campaigns, including campaigns in which audience-relevant content is preloaded into the USB drives.
I can't imagine a better-matched promo for a company that needed something fresh. I'm already going bananas for these and hopefully they give them out again in the future. I'll be first in line to peel over the others to get one!