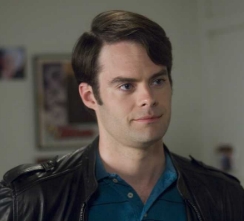 Forgetting Sarah Marshall is one of my favorite movies. I'm not exactly sure why I love it so much, but maybe it's because it was based on some of Jason Segal's real life experiences (including the naked break up!), the shout-out to Norman's  Rare Guitars, or the way that Aldous Snow refers to his missing shoe as "this one's fellow."
I decided to watch it again this week, and this time I went for the special features commentary version. To be honest, there is nothing more dorky than watching this rendition of the movie. You cannot hear any of the script, but you do get to sit through some pretty interesting "behind-the-scenes" stories from key members of the cast and crew. I love this kind of stuff, and found myself laughing joyously more than a few times.
I'm positive the funniest trivia tidbit I heard was about Bill Hader's jacket. Apparently, the production team found the most "hideous" jacket they could buy and made Bill wear it during the entire film. Yes, that's right, he wears this jacket in EVERY SCENE. I'm surprised I hadn't noticed before, but now that I have, it's difficult for me to forget Bill Hader's jacket.

Images: All Movie Photo, About.com, Prijava, Collider