I'm absolutely obsessed with Etsy. I just recently started buying all sorts of crafty things from the site, and I love the feeling I get inside when I support small artists. Today I came across some magnificent geeky jewelry that made my heart flutter, and although I'm stacking cash for a slew of April birthdays & Coachella, I will definitely keep my eye on these dorky finds for the future.
RSS Feed Post Earrings from Nerd Goddess: This shop is packed with geeky bling, but I'm really into these adorable RSS feed post earrings. I also think these could pass for normal earrings, which makes them extra awesome. What a great idea!
Shift Lock Vintage Typewriter Key Pendant from Gwen DELICIOUS: I scooped up a similar pendant at the Little Italy Mercato, and I constantly get compliments on its uniqueness (BTW, if you live in San Diego and haven't visited this wonderful Saturday market, you are missing out and we shouldn't be friends). I have a thing for vintage typewriters and unique necklaces, so it's a match made in heaven. The shop has lots of selections, from rings to cufflinks.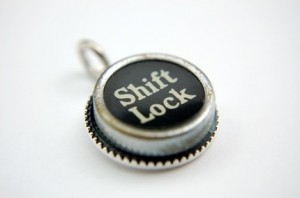 Whimsical Spectacles Brooch from whimsical bazaar: You can't have geeky without glasses, and I would love to attach this to my cardigan sweater. I can't imagine a better geeky accessory. Yes please.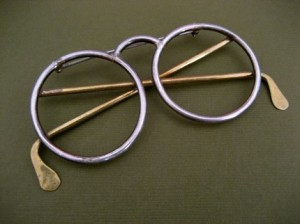 Etsy is full of hidden gems! Please scoot on over to the site and let your eyes go wild. I've also been drooling over some beautiful etsy art recently too. Now if only my money tree could grow a bit faster…