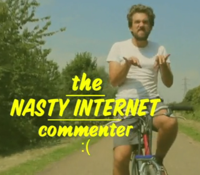 I've always been super jealous of confident "no hands" riders, and given my recent track record (remember this?), I shouldn't be challenging myself to any sans palms cycling in the near future. In fact, I've never been too graceful, but dancing up a storm? I'm good at that.
Then I saw this video, and now I'm dangerously inspired to get out there and try some sweet moves behind my handlebars! This magical gem was created by Ninian Doff, and I totally need to meet this guy. (BTW, just what kind of name is Ninian anyway? Kinda reminds of of some weird C.S. Lewis character, but who cares, he's a total British babe and my name's unique too.) The vid captures 50 "professional" no hands moves (deemed so by the "Official Federation of No Handed Bikes Skills") to the tune of a Martin Brooks track. Confetti, hair blowing in the slowmo wind, cute dudes, gorgeous typography, incredible hand gestures; this video has it all!
Hard to decide, but think it's a tie between guilty man leaving a court, Def Leppard drummer, vogue or nasty internet commenter…they're all so good! Which is your fave?