Last year, I made a list of 25 things I wanted to learn or do before my quarter-century life crisis. Now that I'm 9 months into said anti-climatic age, I figured it's a good time to keep conquering that agenda, regardless of my missed deadline. #17 on my list was "learn how to sew or crochet," so I've become friends with the former and finished three small sewing projects in the last month!
For Christmas, I received a brand new Brother sewing machine, but getting started with the threading process seemed really intimidating! With the help of some good friends, I de-boxified that baby and started experimenting with some different stitches and fabric swatches. Learning each pal's personal techniques and tips was so fascinating, and I can't wait to get some more lessons under my belt at home ec. studio next month! Straight lines and I are casually dating, but fate hasn't brought me and complex seams together just yet.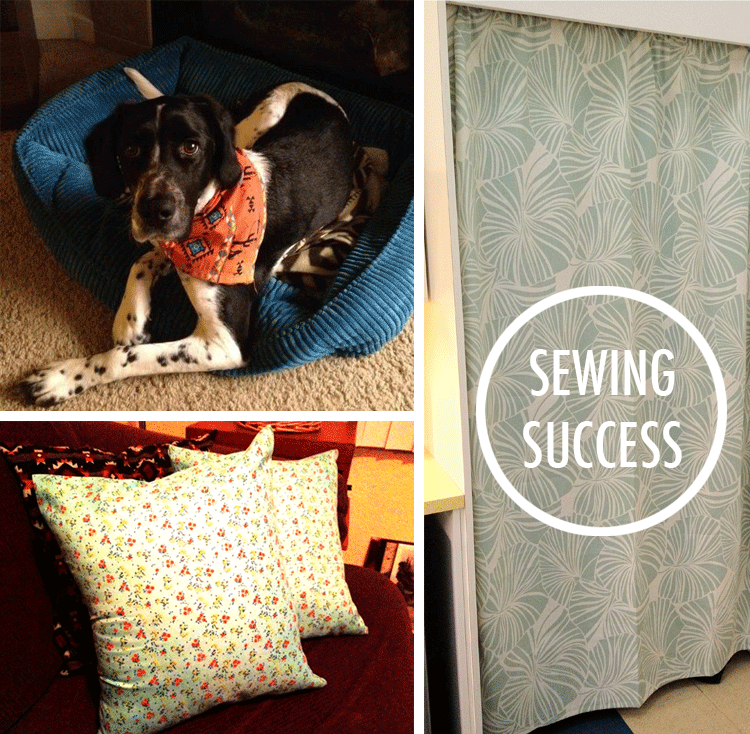 Here's a sampling of my beginner beauties. First was a bandana for Georgia's dog Dart, which, contrary to popular belief, is not just a piece of square fabric. Next came a set of matching pillows, since my apartment needed to more closely resemble my mother's cushion obsession. And finally, my biggest fabric adventure yet: a curtain for our office pantry.
I'm so excited about how these turned out, and already planning my next project! Special thanks to my wonderful sewing mentors, Max and Lacy, since I'd probably still be admiring my machine in the box if it wasn't for their patience and guidance.
Next up: zippers!