There's nothing quite like waking up early on a Saturday and doing some treasure huntin'. While discussing my new obsession for shows like American Pickers and Pawn Stars with a friend, he told me to check out the Spring Valley Swap Meet. So I did, and boy did I find some really rad things! The best part: including admission and a Diet Coke, I only spent $20.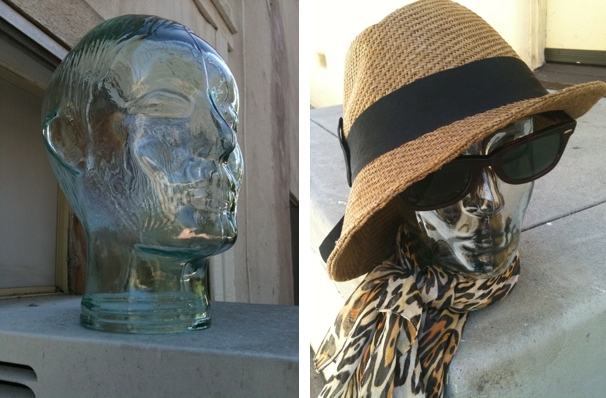 1) A glass head: $8. I don't know what made me fall in love with this one, but I couldn't leave it behind. It's super heavy and probably worth more in glass than what I paid for it! It looks slightly creepy when it's naked, but I think I'll change up his/her wardrobe from time to time with fab accessories. Definitely a conversation piece!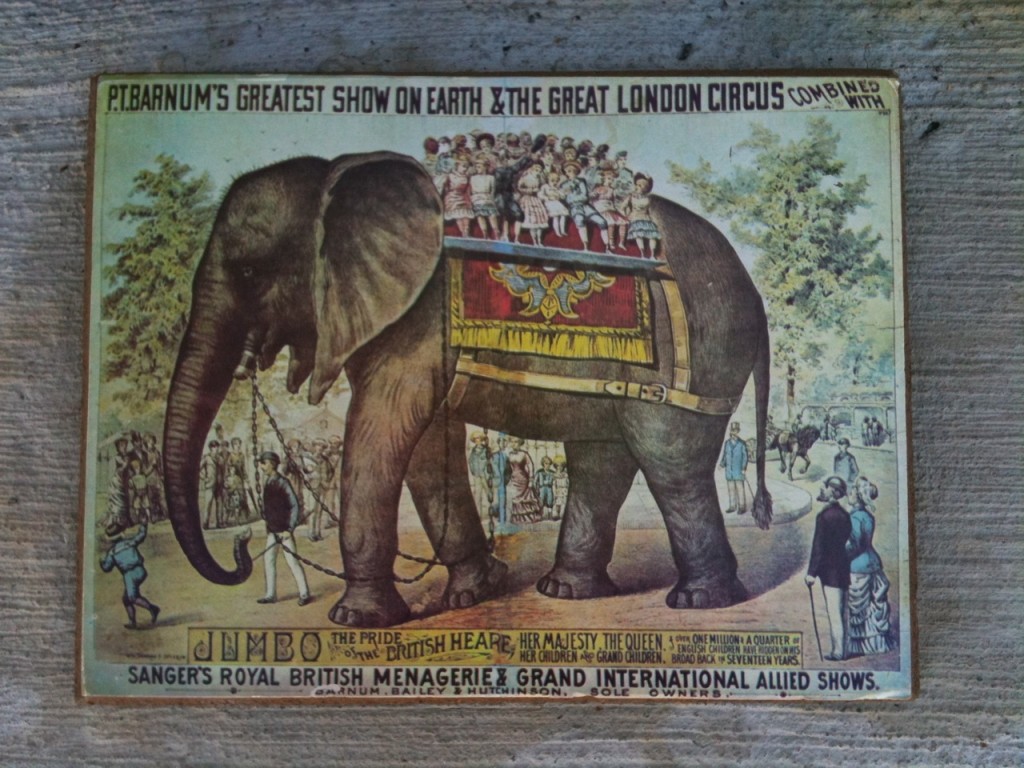 2) P.T. Barnum elephant print on a cork board: $3. The circus has always frightened me, but I'm totally into elephants. The cork board is a little cheesy, and I might attempt to separate the two. It still looks really cool though, and now I'm itching for an elephant ride!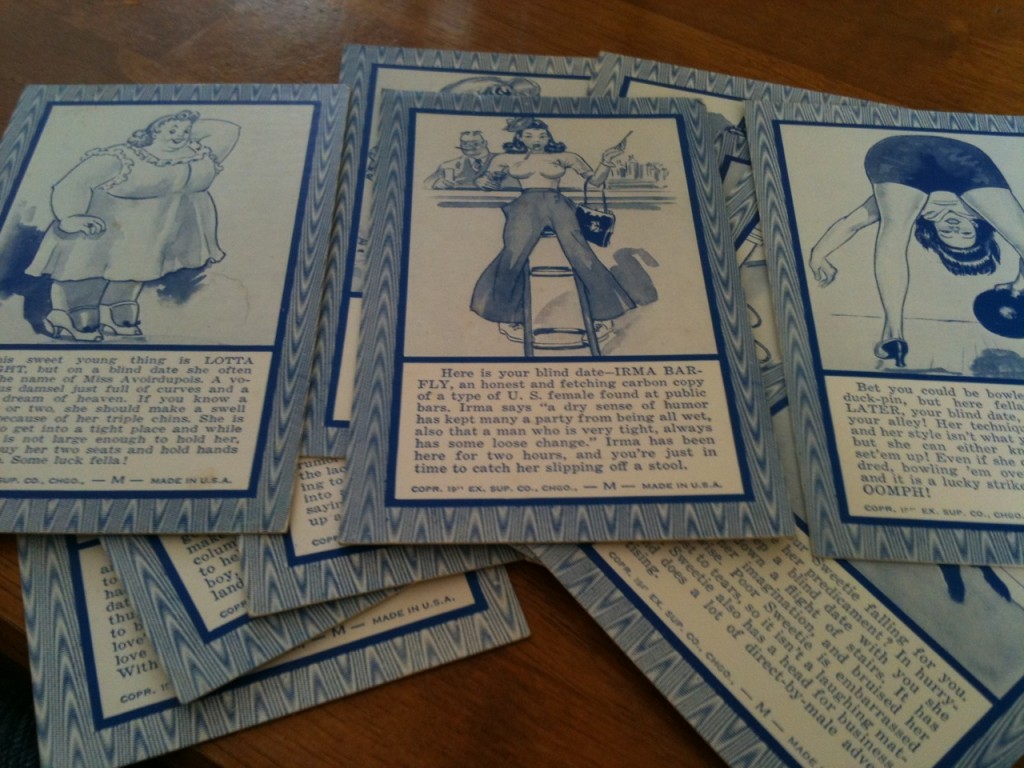 3) 12 Blind Date trading cards: $5. Whenever I see a box filled with old post cards and photos, I make a beeline for the treasure chest. I came across a whole freakin' collection of these hilarious trading cards featuring a bunch of lovely ladies. Not only are there names like "Fannie Warmer," "May B. Wong" and "Miss Numba Please," but the explanations are ridiculous. "Irma Bar-Fly says 'a dry sense of humor has kept many a party from being all wet,'" and "Sweetie also has a head for business, and does a lot of direct-by-male advertising." YES!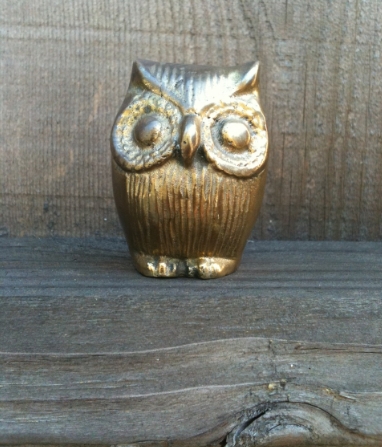 4) Brass Owl: $1. Did you know I collect owls? I do. This little guy was attached to an ugly marble pen holder, and I told her I just wanted the owl. She said "just throw it back on the shelf, maybe someone will want it!" The dealer was such a nice lady and since I "waited patiently" for her to finish up other sales, she gave me a $1 price tag. Probably the least I've ever paid for a hoot-worthy figurine.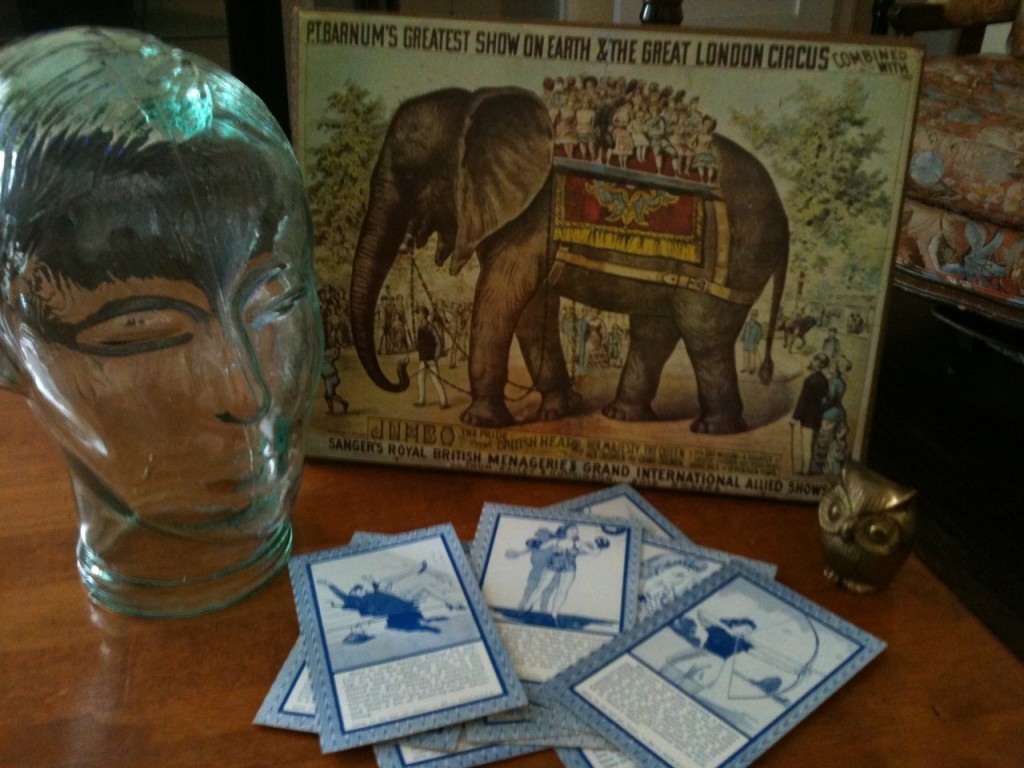 Here are some tips I've learned for getting the best bargains:
Get there early. Yes, I love sleeping in on the weekends too, but if you want the most excellent stuff, you've got to be there right when they open. Timing is everything.
Do not look nice. In fact, look bad. I've noticed a few ladies that dress really nice and wear expensive sunglasses while they're shopping. I'm always perplexed because at swap meets, image is everything. The price that guy charges you for the duck lamp or that set of glasses will depend on your appearance. If you look like you have a little money, they're going to charge you more. I usually don't brush my hair and I try to dress down a little bit. It works pretty well.
When you find something you really love, pretend like it's just okay. Booth owners watch people very carefully when they're picking through their treasures. I've decided they are paying close attention to your emotions, and if they think you reeeeeally want something, they're going to up the price. Make it seem like you could do without it.
Make friends with sellers. If you find a booth (or a blanket, or a sketchy van) full of awesome stuff, I suggest asking to hear about some of the pieces. If it's an antique geek, you can really find out some interesting things. This also warms the merchant up, and they might give you a better price if they like you. Today, after asking about some guy's old crap, the seller said "I was asking everybody else $5 for this, but since you're into junk, I'll do $3." Maybe he was pulling my chain, but I think a little conversation goes a long way.
Phrase your sentence carefully when you're going in for the bargain. Instead of saying "how much is this," ask "what do you want for this" or "what are you trying to get for this." These sentences may look really similar, but they're different. The first one implies an absolute price while the second two insinuate discussion.
The first price offered is too high. Many times, sellers initially ask for slightly more than what they actually want for something. I rarely buy an item at this price, unless it's $1 (see brass owl above). Once I hear what they want, I cut that price in half and low-ball 'em. Then, we meet in the middle. Everyone's happy!
What are some things you've learned? Any swap meets you'd recommend? Let's get pickin'!