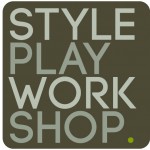 I've always enjoyed photography, but styling a shoot is completely new and different to me. Of course, I've taken photos of people, scenic surroundings, and my parent's dog, but what about strategically placed items that intentionally look good together? That's a foreign concept to me, but a challenge is something I cannot resist.
When I first heard about Style.Play.Work.Shop on Bekka's blog, I was slightly overwhelmed and curious simultaneously. Justina and Bekka met via the interwebs because they both have wonderful blogs, and the online world is a small place if you've got good taste. They decided, as awesome bloggers often do, to put their brilliant minds together and inspire other creatives to make magic with various props. Each month, they pick four household items to photograph and participants are encouraged to put their own spin on things. Described as a "playground for stylists and bloggers," it was difficult not to sign up immediately.
So I hear you saying "but Monique, where's your experience? What nifty credentials do you have? How are you qualified?" and to you I say "I'm not an expert, I just pretend to be." That's right, skilled professional I am not, but that's the beauty of the whole thing. Each week, Justina and Bekka give their helpful advice to each practicing stylist, and just looking at the flickr group submissions inspires me to take better photos. So far, I've learned that you shouldn't wait until nightfall on the day before your photos are due and that I have too many quirky decorations. I'm looking forward to gaining more experience each month, and I really enjoy watching all the different ways four simple objects can be interpreted.
Each month, the "pros" pick their favorites, and I decided I would do the same on GeekSqueak. Take a gander below, and sign up for next month's workshop. I guarantee you'll be stoked on the experience, and you might even discover a few new friends in the blogosphere along the way. Oh, and in case you're curious, here are my photographs from the first two rounds : D