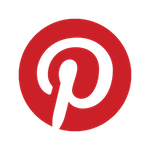 Yes, like all of the other women you know, I too am quite fond of the Pinterest. I've been using the site for a couple years, and love the inspiration I get from other people's pins. Today, I stumbled on an awesome Pinterest shortcut that I haven't seen mentioned before, so thought I'd share it here.
Normally, when you pin something from a website, you use the handy bookmarklet. This allows you to click a button in your browser, and select any image to pin from that page. This looks a little something like this:

Next, you're taken to a window where you can customize the image description, select the appropriate board, and share on Facebook or Twitter.